Abdullah Abdullah on the Growth of Football Tactics in the Women's Game
Posted on 26 October 2021 by Yara El-Shaboury
The infamous words of Graeme Souness, discussing football tactics during a Champions League match between Ajax and Tottenham Hotspur back in 2019, give some insight as to why he hasn't managed at the English top flight since 2006.
"Let me tell you, you can watch any football programme and they'll talk about systems and tactics and formations, substitutions, preparation. It's quite simply a game of football. I'm fed up listening to people talk bull about tactics, formations and too much football science."
"It's quite simply a game of football.

"I'm fed-up listening to people talk BULL about tactics, formations and football science.

"Get first to the ball, and you've a chance in football. You don't get first to the ball, you've no chance!"

Graeme Souness feat. a thrown pen. 🖊👀 pic.twitter.com/VYI30KE23U

— Virgin Media Sport (@VMSportIE) April 30, 2019
Suffice to say that he's wrong. Football tactics have always been a part of the game.
The Impact of Football Manager
One simply does not have to look further than the popular gaming franchise Football Manager. Released in 1992, the game was made by two football fanatic brothers, Paul and Oliver Collyer. They felt that there were no football management sims that adequately covered tactics.

"I remember just sitting in the common room with my friends, playing Football Manager, and all we would talk about is football tactics," says Abdullah Abdullah, a football tactician who has worked as a senior women's football writer for Total Football Analysis and a recruitment analyst at NWSL team, Houston Dash. 
"I remember being told, 'You're playing an Excel spreadsheet game, like what are you doing?' But it's more than that. There are numbers and names, sure, but it's all about who's on the team sheet and how they work together."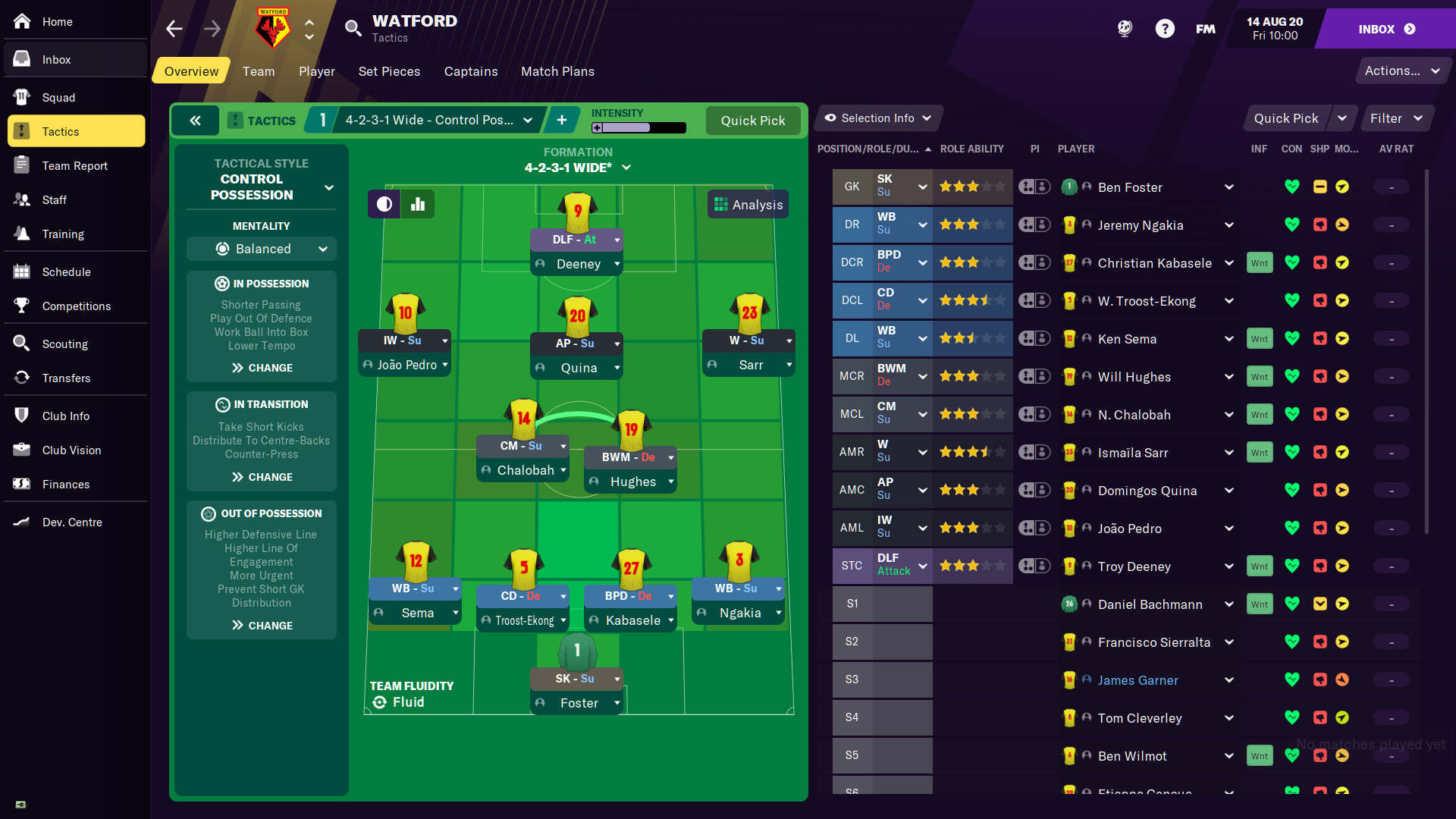 Football Manager has made tactics more accessible for fans, but tactics have always been around. Since the birth of the sport, managers have analysed what systems bring out the best in their players and what shapes can best hurt their opponents.
As much as desire, passion, and "wanting it more" is important, a system's technical intelligence is much more guaranteed to get results because it creates a playing system that links a team's formation to a particular style of play.
Football Manager may have built the foundation, but the tactics space is much bigger now. Abdullah is involved in it all. 
Tactics Writing
"August 2018 was my first insight into actual tactics writing, and it was an eye-opener. I thought I knew stuff, but then I started writing and reading other people's work, and I thought, 'I actually don't know anything,' and I had to learn from scratch."
Getting into the nitty-gritty of tactics isn't difficult, according to Abdullah. It just takes time. 
"Once you start watching the game in an analytical way, you start noticing things that you barely noticed as a fan. It's just a matter of constantly keeping up to date and reading into it." 
For the past few years, Abdullah has honed in on the women's game. He was a senior women's football writer for Total Football Analysis before working as a recruitment analyst at NWSL team, Houston Dash. 
He's also a published author, having written Olympique Lyonnais Féminin: Queens of Europe, a book on the tactical concepts behind the most successful women's team in European football.
His second book, Chelsea Women: Europe's Next Powerhouse?, which will be released in 2022, explains the London club's league success and how they've attempted to translate that to European glory. 
🚨 Comunicado Oficial 🚨

I'm pleased to announce that I've signed for a second book with @PitchPublishing titled 'Chelsea Women: Europe's Next Powerhouse?'

Very excited to finally announce my next big project about a club close to my heart. ✍️Release Q1 2022 pic.twitter.com/QIv47l2rNH

— Abdullah Abdullah (@KunAbd) July 23, 2021
"I remember thinking that I had to break it down into any individual analysis piece as I would. Then, once I was finished, I would shape the storytelling narrative," he said.
"I had to make sure that one wouldn't just be reading about the individual player or tactics in their isolation but that there would be a build-up to answering the ultimate question at the beginning of the book… I had to look at each chapter and think, 'Am I answering that question?' If the answer is yes, fantastic. Start writing the next."
Expanding to Other Media Forms
A jack of all trades, Abdullah has also worked in tactics outside of the written media. He has been a guest on several panels discussing tactics, including the official UWCL Preview Show which aired on UEFA.tv. 
🌟 𝗨𝗪𝗖𝗟 𝗣𝗥𝗘𝗩𝗜𝗘𝗪 𝗦𝗛𝗢𝗪 🌟

Our special #UWCLfinal preview show has landed ✈️

🎙 Hosted by @MollieKmita & @rosiekmita with women's football experts @alexibaceta23 and @KunAbd, we put #UWCL finalists @ChelseaFCW and @FCBfemeni under the spotlight.

⬇️ Check It Out ⬇️

— UEFA Women's Champions League (@UWCL) May 13, 2021
He is also a co-host of his own podcast, Box to Box, which recently won bronze at the Football Content Awards in the women's football category, analyzes the top women's leagues around the world. 
🥉⚽️ The #BestInWomensFootball – Creators or vloggers bronze award goes to…@BoxtoboxWSL 👏🏼
#FCAs pic.twitter.com/quGn8H2DKN

— Football Content Awards (@The_FCAs) October 14, 2021
"There are so many podcasts out there now. But people have told us that we are different from everything else that's on the market. There's not a lot of tactically focused content about the women's game out there, unfortunately."
Women's sports coverage across both print and broadcast averages a mere 4%. A lot of that coverage is allotted to the bare bones: breaking news, and highlights. Very rarely do we see in-depth analysis in mainstream media. 
Part of changing that and making tactical content for the women's game more prominent is making it accessible for all
It isn't easy, though. Writing about tactics and speaking about them are two completely different ball games. But the two very different mediums are great for looking at analytical content in different ways.
"When I'm writing, I can stare at a blank screen for 45 minutes, but on the podcast, I have to actually say something," he jokes.
"It's definitely two very different ways of expression. In writing, I can really go in-depth, and I can use diagrams, pictures, and video clips to explain the idea. Whereas, when I'm talking tactics, it's more of a discussion. You can bounce things off people, have disagreements, and in a way, get instant feedback on your analysis."
As much as he's accomplished, Abdullah still has a lot of goals. Getting into the space was step one. Now, it's about permanently making a mark in the footballing media world and normalising tactics to the point where it shapes how every football fan watches the game they love.